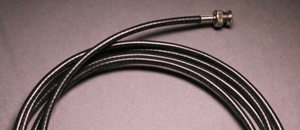 Custom Coaxial Cable Assemblies
Custom Wire Industries manufactures a variety of wire and cable assemblies, tailored to our clients' individual needs. We have a 40+ year track record of successful, happy clients by creating high quality wire and cable products. We take the time to fully understand each of our clients unique needs and specifications to create the best fitting product possible. Our technicians have experience creating many electrical products, including manufacturing coax cable assemblies.
A coax cable assembly begins with a round conducting wire. This wire is surrounded by an insulating spacer, encircled by a cylindrical conducting sheath and then covered by a final insulating layer. These assemblies are often used as a high-frequency transmission line for such applications as home video equipment, radio and television networks and in consumer devices.
Custom Manufactured Cables for Your Desired Application
The specific type of coaxial cable assembly you may need depends on the industry or application you use it for. The experts at Custom Wire Industries manufacture a wide range of cable lengths and styles to suit your specific needs, no matter what they may be.
Common types of coaxial cable types include:
The engineers and wiring technicians at CWI will help you with your custom assemblies every step of the way. Just give us a call, and we'll give you a free quote on any coaxial cable assembly you need done.
Contact our custom coax cable assembly technicians and see what else Custom Wire can do for your business.
< Back To Products