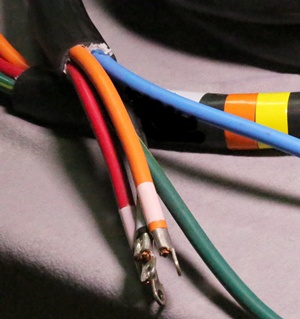 Wire Harness Manufacturer's Long and Total Commitment to Quality
Custom Wire Industries has over 40 years of experience manufacturing custom wire harnesses. We are committed to quality, consistently producing superior wire and cable products that meet strict UL and CSA requirements. We deliver top-quality custom wire harnesses on time, within your budget.
Wire Harnesses: Useful, Easier and Safer
A wire harness is a group of wires bundled tightly together in a specific configuration. Wire harness assemblies can be found in almost any electrical device. Organizing the wires within the device, make repairs, maintenance, and production easier and safer. Given their ubiquity and importance, it's critical to install high-quality harnesses in every electromechanical application.
Wiring harnesses are useful in a variety of fields, including:
Custom Wire Industries manufactures wire and cable assemblies that are custom built to suit each client and project.
Automotive Wire Harnesses
Custom Wire Industries can manufacture an automotive wire harness system for nearly any year, make, or model vehicle. Whether you're working on restoring an old car or building a custom car from the ground up, rely on the Custom Wire team to deliver a wiring solution for your automotive needs. We use the highest quality materials in each wire harness we manufacture and our knowledgeable staff is always available to help answer any questions you may have.
A wire harness provides many advantages over loose wires and cables. Cars, even classic models, contain an incredible amount of wiring throughout. A wire harness binds the cables together protecting them against the harmful effects of daily wear and tear. A high-quality wire harness from Custom Wire Industries tightly binds the wires into a rigid bundle, optimizing space and making installation quick and easy.
Quality, Custom Manufactured Wire Harnesses
Custom Wire Industries is a renowned manufacturer of quality wire harnesses and other electromechanical components. Since 1968, we have been providing our clients with superior electromechanical wires and cables with low turnaround times and affordable prices. Our team of highly skilled engineers has the expertise to manufacture a wire harness to your exact specifications.
As a UL and CSA manufacturer, Custom Wire Industries creates products of the best possible quality at the best price. We work with each client to create exactly the wire or cable assembly they need, from simple wiring harnesses to complex electromechanical device wiring.
Combine this with our cable fabrication services and cable assemblies to complete your project.
Contact our wire harness manufacturers today for more information about our manufacturing capabilities.
We proudly serve customers across the Midwest and the U.S. in Atlanta, Chicago, Dallas, Denver, Detroit, Indianapolis, Madison, Milwaukee, Minneapolis, Oshkosh and beyond.
< Back To Services