Custom Cable Wires and Assemblies from Milwaukee, Wisconsin
When you need the best electrical wire and cable assemblies made for your industry, you can trust Custom Wire Industries. Located in Milwaukee, WI, we are manufacturers for many local Wisconsin businesses. From medical diagnostic equipment suppliers to automotive part suppliers, businesses count on Custom Wire Industries for precision wire manufacturing. Our talented team of electromechanical engineers creates high-quality wire and cable assemblies for all types of industries, and they will always complete them on time and to your exact specifications.
Whether you are seeking electromechanical assemblies, control panels, power cords, or other types of cable assemblies, we are the manufacturer for you. We manufacture a wide range of customized electrical components, including:
Custom Wire's electromechanical assemblies will always be of the highest quality and completed on time for you. Give us a call today for a free quote on your next custom wire assembly.
Industry Leaders in Custom Wire Innovation
Custom Wire Industries has been providing our customers with electromechanical assemblies, control panels, and power cable assemblies since 1968. We set the industry's highest standards for quality, reliability, and performance in every product we manufacture. From custom tooling and injection molding, and the manufacture of turnkey, kitted, and electromechanical assemblies, we can handle all of your electronic needs.
Milwaukee's Best Electromechanical Cable Manufacturers
Custom Wire Industries is a UL and CSA certified manufacturer of electrical wire and cable assemblies in southeastern Wisconsin. Our team of electromechanical engineers specializes in creating unique and customized cable assemblies and electrical components to fit your exact specifications, no matter where you are or what industry you work in. You are sure to get the best custom wire assemblies from Custom Wire in the Milwaukee, WI area.
Our expert engineers and technicians will work directly with you to ensure your cable assembly is built to your exact specifications. Send us an email or give us a call to get more information on the exact assembly or electrical component you need.
Our custom-made cables have been used in a number of industries including medical, aerospace, and construction.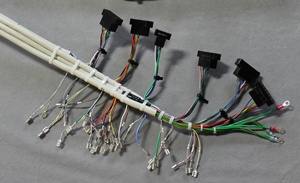 Areas Served from Milwaukee, WI
Madison, WI
Oshkosh, WI
And many more.