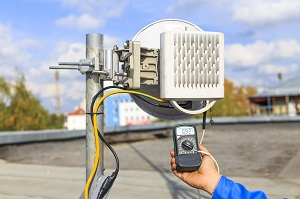 Professional Coax Assemblies from Custom Wire
When you need coaxial cables for broadcasting antennas and antenna splitters, rigid line is the way to go. Rigid line coaxial cables are most often formed by two copper tubes supported at cable ends at intervals, and are specially constructed so they can't be bent. They are often used for indoor telecommunications applications.
You can get rigid line coaxial cables manufactured for your particular application from the wiring experts at Custom Wire Industries. In addition to offering you our affordable prices, the professionals at Custom Wire will manufacture rigid line coax cables to your exact specifications.
High Quality Rigid Line Coax Cables
Rigid cable comes in a variety of sizes, operating at TV and FM frequencies ranging from 800 to 60 MHz and have high power capacities. Some applications for rigid line coax cables can include:
Cable/TV broadcasting
Antenna connectors
Connectors between RF-components
Whatever you need your rigid line coaxial cable manufactured for, the professionals at Custom Wire Industries can help. Call us today to get a quote on our services.
Contact the rigid line coax manufacturers at Custom Wire today to get a quote on your next project.
< Back To Products