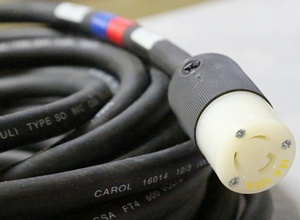 Electrical Power Cables Custom Built for Your Industry
Custom Wire Industries produces and manufacturers cable assemblies of nearly every type, including electrical power cables. Our experience with cable assemblies and cable fabrication allows us to integrate a number of different products and services. Electrical power cables, data cables and control panels from Custom Wire Industries are all fully customizable to your specifications.
Giving our power cable manufacturers as many details as you can, allows our professional to generate an accurate understanding of your current cable needs. From your information, we will deliver products meeting those exact needs and exceeding your quality standards.
Custom Wire Cable Manufacturing Capabilities
Our manufacturing services include a range of disciplines which go beyond electrical power cables. If you have a need for electrical power cables as well as other industrial assemblies, Custom Wire Industries will oblige you. We have the capability to process cables up to 250 MCM. For any other inquiries about electrical power cables, assemblies and manufacturing, please contact us today.
Custom Wire Industries is a wire and cable manufacturer based in Muskego, Wisconsin. We've been providing custom made products for over 40 years. Our engineers have years of experience in the industry and their know-how shows in the quality of our cable and wire assemblies. We provide a variety of products, but one of our top sellers is power cables.
Custom Wire Industries specializes in creating power cables made to your precise specifications. Our skilled staff will work with you to learn exactly what kind of products you need. Then Custom Wire's engineers will use their years of experience to create a long-lasting power cable meeting those needs. After we have created the absolute best product for you, we will set to work manufacturing the assembly in our unique facility.
Military Spec Power Cable System
MIL-Spec cable is assembled in compliance with the United States Military requirements. They are a special set of cables that can be used in electrical and electronic applications and are customized to withstand harsh environments. There are a variety of ways to customize military spec cables ranging from AWG sizes, insulation, conductor count, shielding, and jacketing material. Customizing these cables depends on the application and environment they will be used.
MIL-DTL-3432- CO Cables: Ranked as a high-quality flexible military cable. Considered to be heavy-duty and able to withstand severe flexing and heavy vehicles.
MIL-C-55021 Cable: Intended to be used for internal wiring of electrical equipment. This type of cable can withstand temperatures ranging from -72°F to 189°F.
MIL-DTL-13486 Cable: Heavy-duty cable that is used on military combat vehicles such as armored trailers, tanks, and trucks. These cables offer resistance to liquids like oils, saltwater, and harsh weather conditions.
Custom Wire Industries provides Military-Spec cables and wires for any application.
Contact our electrical power cable manufacturers today to learn more about our capabilities and how vertical integration saves you money.
< Back To Products