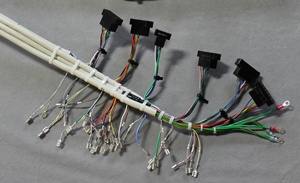 Dependable Medical Cables
Custom Wire Industries provides a variety of cable assemblies and lead wires for many different industries. Each of our manufactured products are constructed for optimal reliability. In particular, our medical cable assemblies are constructed to provide consistent, top of the line performance. Our medical cable assemblies are dependable during emergency situations, during patient testing and monitoring. We supply custom cable solutions for a variety of medical applications and devices, from ambulance cots and pain management systems to EKGs and surgical equipment.
As a UL and CSA certified manufacturer, Custom Wire Industries employs the professionals who have the skills to construct medical cables for your specific needs. Whether you have a complete CAD design, a drawing, or just a basic idea of the type of assembly you need, our engineers will work with you to design and create the perfect medical cable assembly for your unique specifications.
Medical cable assemblies are commonly used for:
Nuclear imaging
Catheters
Communications interfaces commonly use LAN, serial, or fiber optic cables.
Custom Assembly Manufacturing Services
All of our assembly services are geared to providing you with the most customized, professional equipment possible. Working with a provider like Custom Wire Industries gives you an edge because we have experience in a variety of industrial fields. Quality control testing at every stage of production ensures our electromechanical components, including medical cable assemblies, meet all requirements, standards and specifications.
We offer services for the following products and assemblies:
We work to make your consultation as easy as possible while providing the manufacturing services you expect. Request a quote from us, and get the process started today. We'll be able to help you understand the manufacturing process, including the process of creating a medical cable assembly.
< Back To Products