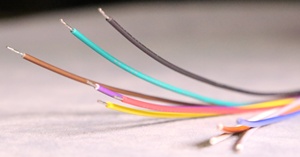 Custom Cable Assemblies Customized for Your Specific Needs
Custom Wire Industries is a CSA and UL Certified manufacturer of wire and cable assemblies. Headquartered in Muskego, Wisconsin, we have been manufacturing quality electrical components since 1968. Offering such products as ribbon cables, lead wires, electromechanical devices and proximity sensor cable assemblies, Custom Wire Industries is your source for custom cable assembly manufacturing.
Proximity Sensor Cable vs. Ribbon Cable
A proximity sensor cable assembly detects the presence of an object without physical contact. It can also measure pressure, temperature and acceleration. A ribbon cable is a set of wires bound side by side into a wide, flat cable. It is commonly used inside computer components such as hard drives, floppy drives and CD drives.
Custom Wire Industries manufactures a variety of custom cable assemblies tailored to each of our client's unique needs. With over 40 years of experience in the wire manufacturing industry, we have a long-standing history of customer satisfaction. From first contact, we work with our clients to determine their unique needs and how we can best serve them.
Custom Cable Assembly Manufacturers Providing High Quality at Low Costs
Custom Wire Industries' strong staff of highly skilled engineers ensure a superior level of quality in our custom cable assemblies. Creating and manufacturing a wide array of products makes Custom Wire Industries not only unique, but the best resource for your specific needs. Our custom cable assemblies are used in a variety of industries, from medicine to military to telecommunications. Some of our assemblies include: High Voltage Test Probes, Joy Stick Cable Assembly, High Speed Data Cable, Proximity Sensor Cable Assembly and more!
Contact our custom cable assembly manufacturers to learn more about our capabilities and how we can meet your unique needs.
< Back To Products