Electromechanical Wire and Cable Manufacturing
Custom Electrical Components Built to Your Specifications
Custom Wire Industries, Inc. is a UL and CSA certified manufacturer of electrical wire and cable assemblies. Our talented team of engineers can assemble an entire turnkey system, tailored to your unique industry needs. Custom Wire Industries electromechanical assemblies are high quality and always completed on time. We specialize in creating unique and customized cable assemblies and electrical components to fit your exact specifications. By purchasing all your components together from us, you'll save money on shipping and labor costs.
We manufacture electrical components including, but not limited to: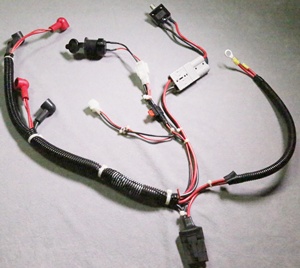 Cable Fabrication Services
We fabricate custom cables for a wide variety of applications like medical, military and industrial equipment. Custom cables we manufacture range from power to medical cables. Each component is manufactured with quality, no matter the application.
Custom Wire Industries offers affordable pricing and fast turnaround times, ensuring your facility is running at optimal capacity. We are committed to 100% quality management. During each stage of the manufacturing process, we have strict quality control processes, ensuring each completed electromechanical component meets and exceeds UL and CSA regulations.
Wire and Cable Assemblies
Electromechanical assemblies and harnesses are also manufactured by Custom Wire Industries. Our custom assemblies can range from microscopic sizes up to 900 pound alert tower assemblies. Cable and wire assemblies from Custom Wire are built with the highest quality materials, and are delivered to you quickly.
Our engineers employ a fully capable CAD system to generate accurate working drawings, allowing us to offer our clients complete wire and cable assembly and design services. Our high quality fabrication services significantly lowers defect rates, consistently delivering customized solutions, providing your facility with reliable performance, maximizing the productivity of your processes.
Custom Assembly
Custom Wire Industries provides high quality electromechanical wires and cables with low turnaround times. Whether you need new custom diagnostic medical equipment composite cable, or a military spec. power cable system, our team of engineers can create a product just for you.
Since 1968, we have been providing our customers with electromechanical assemblies, control panels and power cable assemblies. From custom tooling and injection molding to the manufacturing of turnkey, kitted and electromechanical assemblies, rely on the engineering staff at Custom Wire Industries for all your electrical component fabrication needs.
When you fill out the contact form, include a drawing or PDF of the assembly you need, a Bill of Material with the component manufacturers and any other specifications you require. Custom Wire Industries will work with you to design and create the most effective component for your machine.