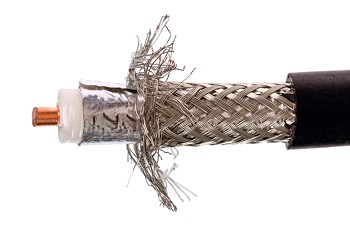 Get Messenger RG-6 Cables Fabricated for Your Application
RG-6 cables are used for a wide variety of applications, but messenger RG-6 cables are distinguished by some waterproofing protection and an additional steel wire (messenger) along its length to act as a support for the cable. Messenger RG-6 cables are typically used in outdoor applications and are used to route cable television signals to and from homes. They are generally strong enough to be supported up in the air or even buried underground.
Custom Wire Industries can fabricate high-quality messenger RG-6 cables for your business. No matter what type of coaxial cable you need for your telecommunications application, our team of wiring professionals can manufacture them for you to your exact specifications. Give us a call today to get a quote.
Coaxial Cable Assemblies from Custom Wire
Longer coaxial cables may need to be fabricated with messenger wires to bond with it and add strength to the cable structure. Installation of the messenger wire at the proper tension will result in a system that has a high degree of reliability, and Custom Wire Industries is dedicated to ensuring your RG-6 wires are fabricated to your exact specifications.
Some other types of coaxial cables we fabricate for businesses like yours include:
Interested in getting high-quality messenger RG-6 cables fabricated for your company? Call Custom Wire Industries today to get a quote for our professional services.
< Back To Products