Wire and Cable Assemblies for Patient Monitoring Systems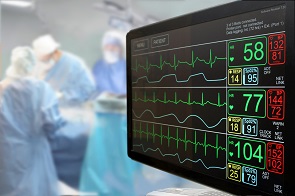 Custom Wire Industries are a UL and CSA certified manufacturer of wire and cable assemblies for a wide variety of industries, including the medical industry. We manufacture high quality wires and cables for many medical applications, whether it be for diagnostic equipment or patient monitoring systems.
ICU monitors in particular are vitally important pieces of equipment in the medical industry. They help doctors see how fast a patient's heart is beating, what their blood pressure is, and how much oxygen is in their system. Doctors being able to accurately monitor these stats can help keep their patients alive, therefore the wire and cable assemblies used to manufacture these monitors are incredibly important.
Wires and cables used in ICU monitors and other patient monitoring systems include:
Custom Wire and Cable Manufacturing for the Medical Industry
You can trust the wire and cable professionals at Custom Wire Industries to manufacture your assemblies for any medical application. When you need an ICU monitor or another patient monitoring system manufactured with high quality wires and cables, you can contact us at Custom Wire to get a quote on our services.