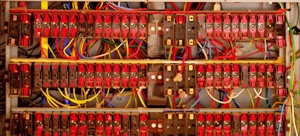 Custom Control Panel Assemblies Built with Quality
Custom Wire Industries is a wire and cable manufacturer based in Wisconsin. We pride ourselves on being a world class manufacturer and service provider for a variety of industrial categories, including control panel assembly, custom wire harnesses, ribbon cable assemblies and many others. Our service capabilities are the solution to your custom wiring and control panel assembly needs.
As part of the custom assembly services we provide, our control panel engineers are among the best in the world. No matter how complicated the task is, our professionals will set up paneling that will blend in perfectly with your current industrial hardware.
Our control panel assembly has been recognized as among the best in the country as a CSA and UL certified manufacturer of industrial wires and panels. We can integrate our expertise with your current logistical needs to create a new and efficient solution. You will wonder why you didn't try a custom control panel from us before.
Feel free to contact us by filling out our online form or by stopping by for a visit. Our professional electromechanical engineers will be glad to consult with you, give you a quote and begin the smooth and efficient process we do so well!
< Back To Products