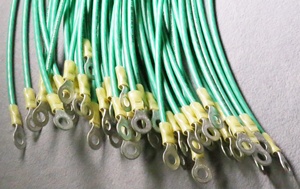 Lead Wires for Electromechanical Applications
In electronic applications, lead wires provide necessary electrical connections between two locations through a metal pad at the end of a length of wire. Lead wires are essential tools when transferring power within electronic applications, and they need to be fabricated precisely depending on what it's being used for. Lead wires can be used in a wide variety of wire applications, often in electronic equipment in the medical and software industries.
No matter if you only need a few lead wires or hundreds, you can count on Custom Wire Industries to fabricate them to your exact specifications. Some of the most common uses for lead wires include:
Transferring power
Physical support
Probing circuits
Transmitting information
Heatsinks
Custom Wiring Solutions
Custom Wire Industries is a leading cable assembly manufacturer. We produce assemblies and wire products to fit the specifications of each customer. Our lead wire and cable assembly capacities have allowed us to become one of the leading custom manufacturers in the country. We specialize in the production of lead wires and cable harnesses.
Whether you want to overhaul your operation's industrial system infrastructure or fill in some underperforming parts, Custom Wire Industries can accommodate you. Our range of services is meant to facilitate nearly any lead wire or electrical wiring need. This means that Custom Wire Industries strives to offer industrial wire solutions no matter what your needs are.
Contact the custom lead wire and cable assembly production leaders today for a free quote.
< Back To Products