Electromechanical Assemblies for Vehicles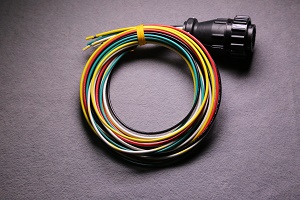 Custom Wire Industries has a great selection of electromechanical wire and cable assemblies for the automotive industry. Our products perform well even when under intense environmental conditions. Custom wires and cables can be created to resist corrosion, high temperatures, abrasion and extreme flexion. Our products and services are of the highest quality and are created with industry standards in mind, exceeding UL and CSA regulations.
Wires and cables for automotive industries include, but are not limited to:
Automotive Wire Harnesses
State-of-the-art machinery and custom over molding capabilities allow us to create automotive wire harnesses to your exact specifications. We communicate directly with you to craft the right wire harness for any type of vehicle.
Wire harnesses consist of:
Electric wires
Connectors
Terminals
Clamps
Convoluted tubes
Engineering a wire harness is complex; however, we have the capabilities and experience to craft a wire harness to your exact specifications.