Dental Equipment Manufacturing Service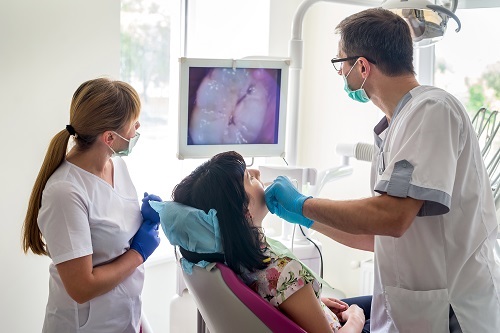 Dentists and orthodontists have come a long way from the days of using a tiny mirror and light to examine teeth. Now, intraoral cameras allow dental staff to project images of teeth onto monitors to find signs of cavities, decay, and other changes.
These intraoral dental cameras need to be small and flexible to fit into mouths. The wrong wiring or cables will hinder the dentist's abilities to maneuver with the camera and get a good view of the mouth. Custom Wire Industries manufactures wiring and cables for all types of dental equipment. We will supply the best wire or cable assemblies for your camera.
Benefits of Intraoral Cameras
Every dental office should invest in hhigh-qualityintraoral cameras. Dentists, orthodontists, and hygienists alike can all benefit from these cameras. Use these cameras to:
See teeth and gums up close
Access hard to reach areas
Record images of the mouth
Ordinary cameras just won't cut it. Intraoral cameras are specially designed for use in the mouth. They need to be waterproof, resist damage from accidental contact with teeth, and easy to sterilize between patients.
Dental Industry-Specific Cable Assemblies
Custom Wire technicians know the industry specific needs of dental equipment wiring. Along with providing appropriate wiring for the in-mouth camera, we provide computer interface cables. These assemblies are hooked up directly to a computer or monitor to display the inside of the mouth. And there needs to be enough cable length for maneuverability around the patient, staff, and other equipment.
Custom Wire engineers will work with you to provide the exact wiring your equipment needs to work best.
Specialty Dental Equipment Wiring
Intraoral cameras work best when paired with cephalometric (ceph) x-ray machines. The cameras show surface changes to oral health while x-rays go deeper and can show changes in the bone and muscle of the jaw. Custom Wire Industries provides cable assemblies for medical x-ray machines.
Other wiring we provide for dental clinics:
Digital radiography
CAD/CAM technology
Light systems
Dental handpiece systems
Dental lasers
Dental sterilization equipment
Surgical equipment
Endodontic equipment
Emergency equipment
Since dental equipment often requires custom cables, contact our technicians to design, create and test any type of assembly you need.
Wire Manufacturing Service for All Industries
Custom Wire Industries does more than create wire assemblies for dental equipment. We have assisted with the creation of wire and cables across every industry. Our wide range of wire manufacturing includes:
Our engineers have manufactured wires and cables for every dental application. Our custom capabilities are unmatched. Contact us to order the best wire and cable assemblies for your dental equipment.